Vertical axis wind turbines are more efficient
Speaking about wind energy, the first thing that comes into mind , for instance, are those big wind turbines which are located in offshore wind farms, with a horizontal axis of rotation. However, in future, this Eolic system could be replaced by wind turbines spinning on a vertical axis such as our micro-Eolic Pegasus and Hercules, certainly in a much larger scale.
This different approach started in England, at the School of Engineering Computing and Mathematics (ECM) of Oxford Brookes, where a thorough study about wind energy revealed that the Vertical axis turbine's design is more efficient and whenever two of them are paired, they could improve each other performances of nearly 15%.
This study, based on a simulation of about 11 500 hours, has stated that a group of vertical wind turbines, placed on a grid formation, can improve each other's performances. Moreover, as said by professor Iakovos Tzanakis that performed the study, Vertical axis wind turbines could be placed closer between them, in comparison of the horizontal ones, to improve the efficiencies of the entire wind farm.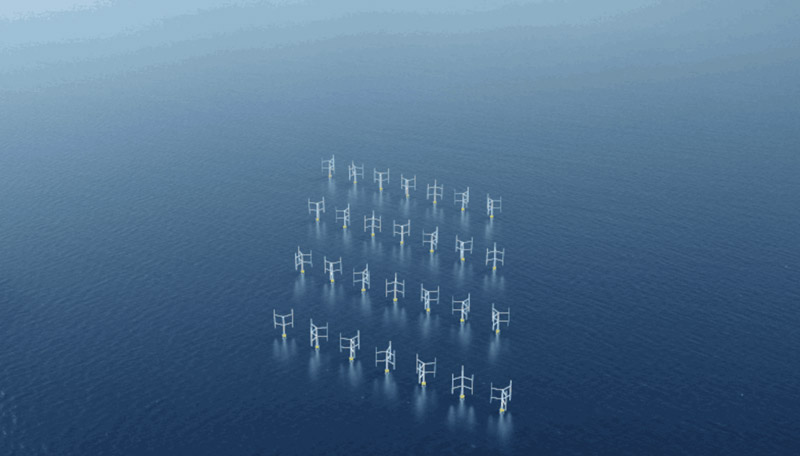 Practically, in a common wind farm the turbulent wake generated by the first row of turbines reduces the output power of the turbine placed in the rear rows with peaks of about 40%. Vertical axis wind turbines do not suffer from this effect, in fact, if placed at the right distance they can improve the overall performance of the farm.
To prove the point, an experiment was conducted in a desert with 6 vertical axis wind turbines 10m height, (our micro Eolic Enessere reaches 8,85m of height), placed next to each other at the beginning, and then slowly spaced apart till an optimal disposition was found, where the grid improved the overall performance of about 10%.
We live in an age of energy transition, where studies are continuously done to improve and make the energy production from renewable sources more efficient, in order to stop using fossil fuels which are the major responsible for the greenhouse effect.
This kind of study shows that the technology to generate energy from renewables already exists in the market and it is constantly expanding towards an improvement in its performance. However, the Global Wind Report 2021, stated that the global installation level is far from meeting the global goals fixed to fight climate change.
In conclusion, more has to be done and it has to be done faster, so our impact on earth will be the minimal possible to reach the "Zero emission" goal, the only one that can radically change our future.