Facebook and Adobe are focusing on wind energy, committing to meet their energy requirements within the year 2029 thanks to wind-generated green energy.
Both companies, in fact, require a substantial, continuous supply of electric energy with no blackouts to avoid damaging the servers in their underground bunkers. These data centers that store all user sensitive data are powered up and cooled around the clock, thus avoiding any overheating that might cause issues.
Enel Energia signed a green energy supply agreement from the wind farm in Rattlesnake Creek that will ensure at least 200MW of clean energy each year and thanks to the planned expansions it will reach a goal of 320MW of electric energy by the year 2029, necessary to ensure energetic self-sustainability for the two Californian giants.
Facebook and Adobe have always strived to ensure a sustainable transition from fossil fuels to wind energy, not just for their data banks but also for their headquarters and facilities.
Bobby Hollis, Facebook's Head of Global Energy, stated that «feeding data centers with 100% renewable energy is not just something Facebook focuses on, it's a necessity for the whole sector».
It was estimated that Facebook's decision will prevent the emission of 940K tons of CO2 each year, which is roughly what 200K cars generate in one year.
Facebook has been holding this green energy record since 2018, with about 2,6 Gigawatts of green energy generated thanks to wind farms and solar panels.
Globally, the USA have so far been leading in the green contracts for the industrial sector, with at least 34 big corporations including Budweiser and Nike, other than the aforementioned companies.
For instance, Nike signed a 100% renewable energy purchase agreement in Europe that, by the end of 2020, will come from a wind plant currently being built in Navarra, Northern Spain.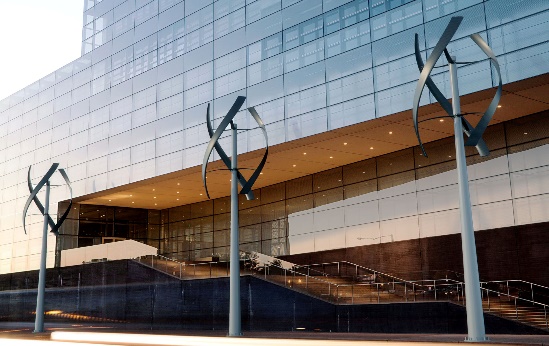 In 2019, on a global level, the so-called Power purchase agreements (Ppa) (that is, energy supply agreements) – exclusively using Green energy – have been signed by 121 corporations in 21 different countries.
The number of companies that choose wind energy, photovoltaic and other clean energy sources to run their businesses is rapidly growing.
A combination of ethics, company mission and often marketing reasons generated this decisive green push for the largest multinational companies all over the world. Moreover, since access to incentives and investments is tied to certain criteria concerning the protection of the environment, these are often inevitable choices from corporate.
On the heels of this "green awareness", 164 companies from all over the world adhered to the RE100 project (RE stands for "renewable energy") created in 2014 – these companies set a goal to reach 100% clean energy sustainability in the coming years.
In Italy, Greenpeace and Lega Ambiente strongly suggest companies to bet on wind energy as they consider wind energy to have a fundamental role towards a cleaner and renewable energy system that contributes to the decrease of CO2 emissions, as envisaged by the Kyoto Protocol 2020 climate & energy package.