The new modular base for ENESSERE micro vertical wind turbine
Renewable energy is essential for a sustainable future and sometimes the installation of plants such as wind turbines with plinths on the ground can be complicated and invasive: a modular base placed on the surface represents an innovative solution to these difficulties.
Wind turbines usually require excavations for plinths and complex installation works to ensure their stability and anchoring to the ground.
So we thought of an optimal solution that eliminates this need thanks to a modular structure that we could define as "plug-and-play" that can be installed quickly without any need for invasive building works.
This drastically reduces the impact and installation times, making wind energy accessible even in urban and domestic contexts.
We are therefore pleased to present the new ENESSERE modular base, an innovative surface anchoring solution for micro wind turbines that combines aesthetics, functionality and customisation. This new addition to our range of green products represents the perfect match between environmental sustainability and cutting-edge design, thus giving a touch of elegance to sustainability.
Collaboration with Margraf S.p.a. and features

In collaboration with Margraf S.p.a., an Italian company specialised in the processing of marble and stone materials, we have designed an ENESSERE modular base to further enhance the spaces surrounding the wind turbines in an elegant and distinctive way. Composed of UPN metal profiles and concrete blocks covered in precious marble, the base is quick and easy to install, eliminating the need for excavations in the ground, thus guaranteeing a perfect anchoring.
But the surprises don't end there!
The modular blocks not only ensure the stability of the blades, but create new usable spaces, expanding the aesthetics and value of the entire area. In fact, thanks to the racks for bicycles, ski racks or seats of various types, the ENESSERE base transforms the environment into a unique place where design and functionality merge with harmony and exclusivity.
Customisation and configurations
We offer completely customisable aesthetic solutions, with natural stone modules of different colours and standard dimensions of 70×55 cm, which can be adapted to specific needs.
The end result is a bespoke artwork that reflects style and personality.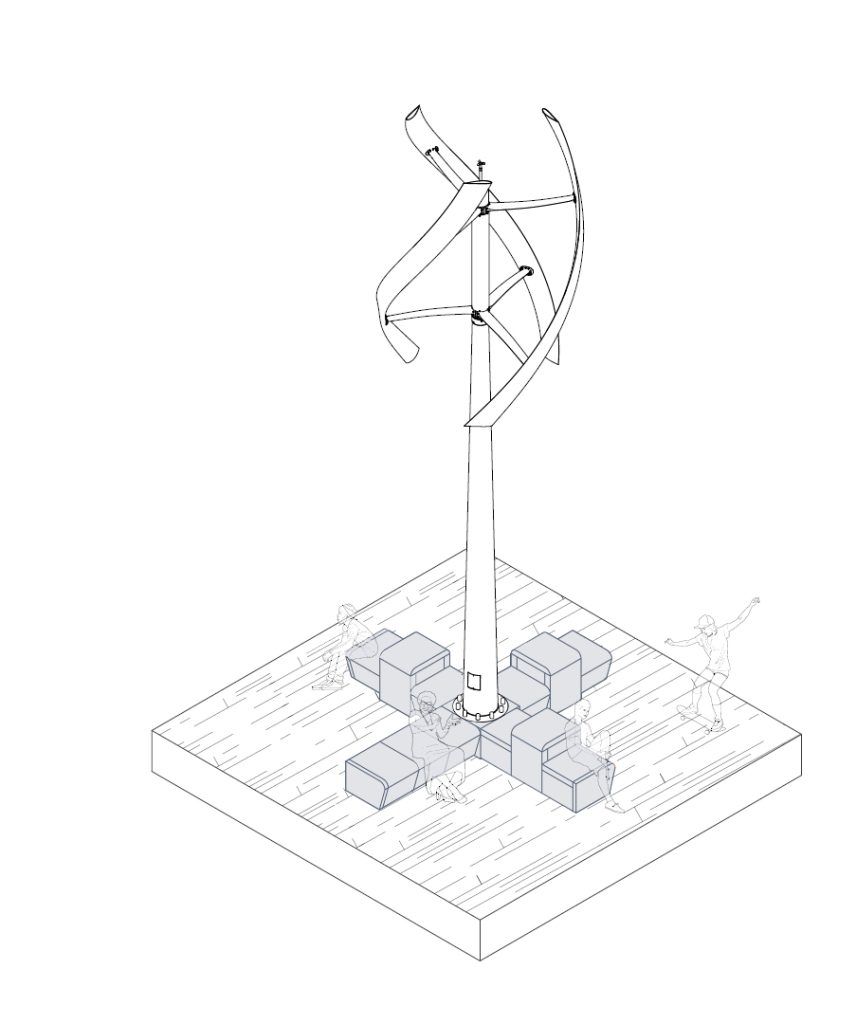 An example is the "sitting and rest" configuration, ideal for creating a comfortable and functional relaxation area around the blades. The modules offer everything you need for a complete wellness experience. The customisable arrangement of the modules adapts perfectly to every place and preference, creating a unique welcoming space.
Sustainable design
The ENESSERE base represents the perfect fusion between elegance and sustainability. In addition to promoting clean energy, it offers a top-level design element that enriches spaces.
Explore new ways of experiencing spaces with the ENESSERE base. Let yourself be conquered by its beauty and functionality, transforming the environment into a unique, sustainable and original place.
In summary
To conclude, we give you a brief summary of the real advantages of the ENESSERE marble base for micro wind turbines:
Plug-and-play: quick and easy to install, it eliminates the need for excavations and complex foundations, reducing installation costs and times.
Stability: the modular marble blocks ensure the stability and perfect anchoring of the wind blades.
Personalisation: customised aesthetic solutions with marble modules of different colours and sizes, for configurations that reflect your own style.
Useful spaces: create new usable spaces under the wind turbines, enhancing the surrounding area thanks to seats, bike racks, ski racks, etc.
Exclusive design: a valuable piece of furniture that combines avant-garde aesthetics and environmental sustainability.
Promotion of clean energy: an ecological solution which favours the use of renewable energies.